After almost two years of restrictions aimed at curbing the transmission of COVID-19, the Icelandic Government finally announcedon Wednesday that all restrictions, including all testing and restrictions at the borders, will be lifted at midnight on Friday, February 25th.
The Minister for Healthcare, Willum Thor Thorsson, said that with the current level of infections, continued restrictions are useless. "Restrictions do not have any effect at this point in time," he said. The Health Ministry also said the way to end the pandemic is herd immunity through infections, and it wants "as many people as possible" to be infected to achieve "widespread societal resistance". Vaccines will not provide the necessary immunity.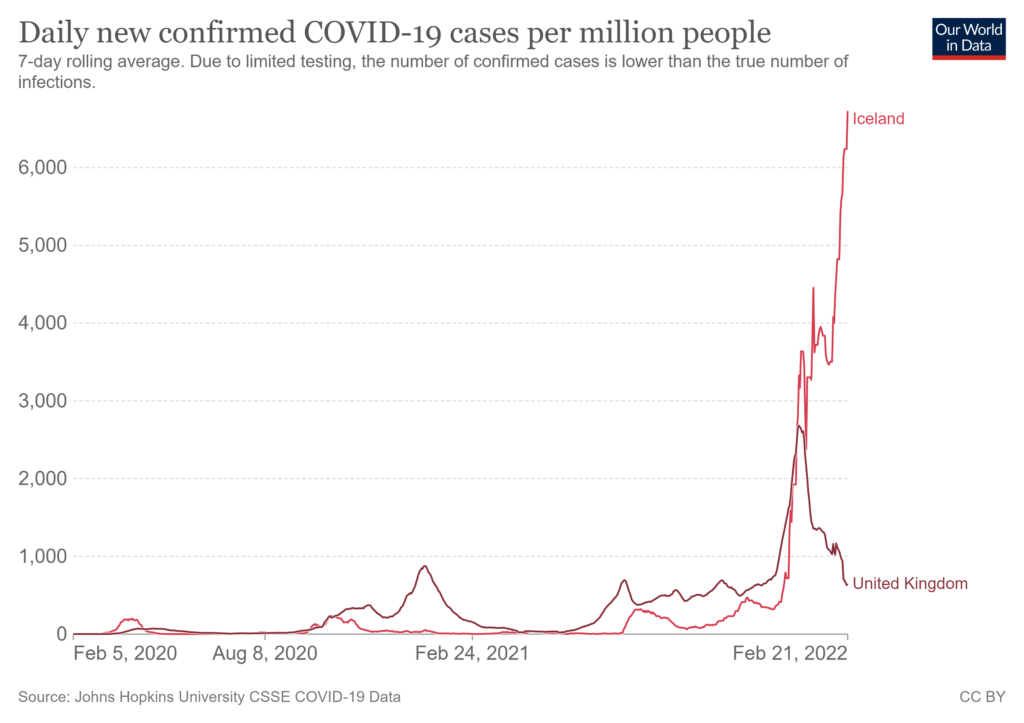 Over the past weeks and months, mask mandates and strict limitations on gatherings have been in place, while infections have surged and the restrictions seem to have had no effect on transmission.
Iceland
As much as 81% of the population above the age of four has been vaccinated at least twice. Official figures now show a higher infection rate among double-vaccinated adults and children than among the unvaccinated, and the boosters clearly do little to curb infections, as the infection rate for the triple vaccinated is now around 70% of that for the unvaccinated, and approaching it slowly but surely.
Almost a third of the population has tested positive and based on a recent local seroprevalence study it may be estimated that the actual proportion of the population that has been infected is close to two thirds.
The use of PCR tests for the general population has been discontinued and the crowd waiting outside the main testing centre in Reykjavik dispersed just after the Government made its announcement on Wednesday.
Most of the people in the street interviewed by the media seemed happy to get rid of the restrictions. The director of the Icelandic national hospital was worried though, and said this was too early.
Despite the decision made this week, the Icelandic Prime Minister said the possibility of new restrictions later on could not be ruled out, for example in the case of a new variant emerging. After the Healthcare Minister's announcement regarding the lack of effectiveness of the restrictions, it might be expected that a decision to reimpose them would have to rest on a stronger foundation than before.
Thorsteinn Siglaugsson is an economist who lives in Iceland. Find him on his blog.
Stop Press: Poland is also lifting all restrictions from March 1st, except the mask mandate, oddly.