You are now a home farmer! Welcome to the future.
(And good luck doing it just one day a week!)
"Sri Lanka gives gov workers Fridays off so they can farm to ease a food shortage."
UN Food Chief Halved Refugee Meal Rations As Global Hunger Crisis Worsens
Food riot risks continue to soar worldwide as the head of the food-aid branch of the United Nations halved meal rations for refugees.
On Monday, David Beasley, director of the UN World Food Programme (WFP), released a statement detailing "the heartbreaking decision to cut food rations for refugees who rely on us for their survival."
"As global hunger soars way beyond the resources available to feed all the families who desperately need WFP's help, we are being forced to make the heartbreaking decision to cut food rations for refugees who rely on us for their survival," Beasley said.
Beasley pointed out that WFP already "significantly reduced" rations across its operating areas, indicating cuts up to 50% are affecting 75% of all refugees supported by WFP in Eastern Africa, including Ethiopia, Kenya, South Sudan, and Uganda.
He said "severe funding constraints" has forced WFP to "significantly reduce rations for refugees living in Burkina Faso, Cameroon, Chad, Mali, Mauritania, and Niger."
"Despite generous support from donors, resourcing remains insufficient to meet the very basic needs of refugee households and imminent disruptions are expected in Angola, Malawi, Mozambique, Republic of Congo, Tanzania, and Zimbabwe," the statement read.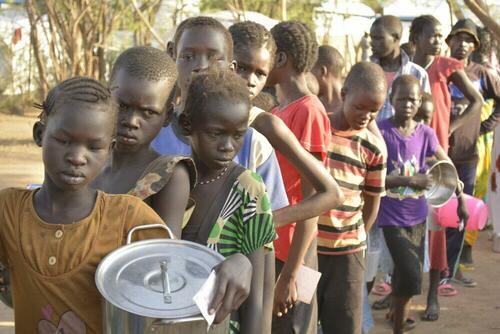 "Without urgent new funds to support refugees – one of the world's most vulnerable and forgotten groups of people – many facing starvation will be forced to pay with their lives," Beasley warned.
Beasley's statement shouldn't surprise readers because we've detailed in length that this would happen as many vulnerable countries were already on the brink of food shortages.
WFP warned in April about the toxic combination of food disruptions due to the Ukraine conflict and soaring food inflation that has created an unprecedented global food crisis that is only worsening.
"This, coupled with devastating conflict and climate extremes, is hitting refugees the hardest," WFP said.
Bloomberg Economics recently outlined Nigeria, India, Colombia, the Philippines, and Turkey are countries to monitor for food riots. Peru and Sri Lanka have already been two countries undergoing social instability. Notice global food prices are above 2010/11 Arab Spring levels.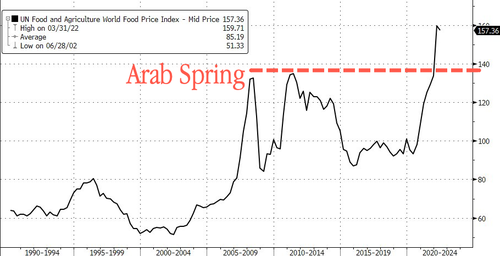 Last week, Beasley said hundreds of millions of people around the globe are "marching towards starvation."
The shortage of essential food staples putting millions of lives in jeopardy and risk destabilizing couentries will be a top threat through at least 2023 as the 2022 Northern Hemisphere planting season could be underwhelm in terms of the harvest due to the Ukraine conflict and resulting Western sanctions on Russia, soaring energy and fertilizer costs, and climate woes plaguing agriculturally rich areas.
As a reminder, Rockefeller Foundation President Rajiv Shah initiated the six-month countdown to a "massive, immediate food crisis" in April.
Iranian institutions facing food shortages as prices skyrocket
Local media in Iran say public institutions such as hospitals, prisons, and child-care centres are facing possible food shortages due to skyrocketing prices.
The Tehran-based Etemad newspaper reported on June 15 that the impending "problem" could hit in "the coming weeks" and that "food supplies will be disrupted not only in hospitals but also in other government facilities such as barracks, prisons, nursing homes, and even student dormitories."
Etemad quoted the head of a private hospital as saying that a sharp rise in food prices has affected the quality of hospital food to such an extent that freshly made items are likely to be eliminated in public and private hospitals, with packaged foods being used instead.
The head of the hospital, who asked not to be identified, added: "In the coming weeks, it will be impossible for many public or private medical centres to provide hot meals, especially protein-rich foods, to hospitalized patients because this increase in food prices was not seen in any hospital budget."
"Since last year, the head of the hospital has cut off food for staff and nurses, and for those nurses who have 12-hour daily shifts, a sum of 150,000 Iranian rials ($0.40) per shift is paid instead of meals," a nurse at a public hospital in Tehran said.
Iran's economy has been devastated by years of harsh sanctions imposed by Washington since the United States pulled out of an accord with global superpowers aimed at curbing Tehran's nuclear program.
The perceived mismanagement of the economy and anger about rising prices has prompted many Iranians to protest in recent months over the government's inability to help their lives.
A government decree this year raised the amount of money given to public hospitals by 19.5 percent and by 24 percent for private hospitals. Food costs, however, have increased by up to 30 per cent in public hospitals and by up to 40 per cent in private hospitals.
A May survey by the Statistics Center of Iran on changes in the prices of high-consumption items showed that the prices of 53 food items increased significantly over the same month in 2021.
"Patients admitted to 60 intensive-care units in the country's hospitals receive less than 62 per cent of their calories and about 54 per cent of their protein needs," Abdolreza Norouzi, secretary of the National Working Group on Nutrition Science Development, recently warned.
"The situation in the intensive-care units for children and infants is much worse. Premature babies who have no nutritional reserve receive an average of about 48 per cent of the calories and energy they need," he added.
As Po dries up, Italy's food and energy supplies are at risk
And here it is, the water shortage that was told to me 3 years ago and said it would coincide with the food shortages. I thought, how can they do this with all the damns etc.
But it's happening and I doubt my mate predicted the weather.
Water is so low in large stretches of Italy's largest river that local residents are walking through the middle of the expanse of sand and shipwrecks are resurfacing.
Authorities fear that if it doesn't rain soon, there'll be a serious shortage of water for drinking and irrigation for farmers and local populations across the whole of northern Italy.
In a park near the central northern village of Gualtieri, cyclists and hikers stop in curiosity to observe the Zibello, a 50-meter long (164 feet) barge that transported wood during the second world war but sank in 1943. It is normally covered by the Po's waters.
"It's the first time that we can see this barge," said amateur cyclist Raffaele Vezzali as he got off the pedals to stare at the rusted ship. Vezzali was only partially surprised, though, as he knew that the lack of winter rain caused the river to reach record low levels.
But the curiosities of a resurfaced wartime boat and wide sandy beaches do little to mask the disruption this will cause for residents and farmers.
The drying up of the Po, which runs 652 kilometers (405 miles) from the northwestern city of Turin to Venice, is jeopardizing drinking water in Italy's densely populated and highly industrialized districts and threatening irrigation in the most intensively farmed part of the country, known as the Italianfood valley.
Northern Italy hasn't seen rainfall for more than 110 days and this year's snowfall is down by 70%. Aquifers, which hold groundwater, are depleted. Temperatures of 2 degrees Celsius (3.6 degrees Fahrenheit) above season average are melting the tiny snowfields and glaciers that were left on the top of the surrounding Alps, leaving the Po basin without its summer water reservoirs.
All these factors are triggering the worst drought in 70 years, according to the Po River Basin Authority.
"We are in a situation where the river flow is approximately 300 cubic meters (80,000 gallons) per second here in (the riverside village of) Boretto, while normally in this area we have almost 1800 (cubic meters, 476,000 gallons)," explained Meuccio Berselli, secretary-general of the Po River Basin Authority.
The authority is constantly monitoring the river flow but there is very little hope that weather will help. The little rainfall that occurred in June was extreme and localized downpours that weren't absorbed by the land and didn't reach the Po and its aquifers.
Berselli is frantically working at a resiliency plan to guarantee drinking and irrigation water to millions of households and to the Po valley farmers, who produce 40% of Italian food. Parmesan cheese, wheat, high-quality tomatoes, rice and renowned grapes grow in huge quantities in the area.
The resilience plan includes higher draining from Alpine lakes, less water for hydroelectric plants and rationing of water in the upstream regions.
The Po drought comes at a time when farmers are already pushing both irrigation and watering systems to their maximum to counter the effect of high temperatures and hot winds.
Martina Codeluppi, a 27-year-old farmer from the tiny rural town of Guastalla, says her fields are entirely irrigated with the water coming from the Po and are already suffering due to the lack of winter and spring rain. She said she's expecting a "disastrous year."
"With such high temperatures… with no rain, and it seems that there won't be rain in the coming days, the situation is catastrophic," said Codeluppi, as she walked through her family's fields. She's proudly growing pumpkins, watermelons, wheat, and grapes on farmland passed down through the family, but she's extremely concerned about what this year's harvests will yield.
"We believe that there will be a drop in this wheat productivity by at least 20% or more due to the lack of rain and irrigation," she said. The Italian farmers confederation estimates that wheat yields could drop by 20% to 40% this year. Wheat is a particular concern for farmers as it's completely reliant on rain and does not get irritated.
The irrigation system is also at risk. Usually, river water is lifted with diesel fueled electric pumps to upper basins and then flows down in the vast fields of the valley through hundreds of waterways. But now, pumps are at risk of failing to draw water and excavators are frantically working to constantly dredge dedicated waterways to ensure the water necessary for irrigation.
The water shortage won't just hamper food production, but energy generation, too. If the Po dries up, numerous hydroelectric power plants will be brought to a halt, at a time when the war in Ukraine has already hiked up energy prices across Europe.
According to a state-owned energy service system operator, 55% of the renewable energy coming from hydroelectric plants in Italy comes from the Po and its tributaries. Experts fear that a lack of hydroelectric power will contribute to increased carbon dioxide emissions, as more electricity will have to be produced with natural gas.
"On the top of the critical situation we are creating an additional damaging situation," said the Po river authority's Berselli about the likely surge of greenhouse gas emissions.
Swimming chiefs limit transgender participation
Fina also intends to establish a new 'open' category for swimmers whose gender identity differs from their birth sex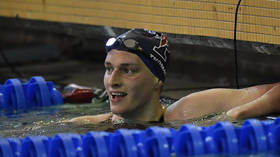 © Mike Comer/NCAA Photos via Getty Images © Getty Images
Swimming's world governing body, Fina, has voted to ban all transgender athletes that have gone through any part of male puberty from taking part in elite women's races.
Fina's new policy, which passed with 71% of votes from 152 Fina members, has been described as "only a first step towards full inclusion" for transgender athletes and was made at an extraordinary general congress at the World Championships currently ongoing in Budapest.
Furthermore, Fina also aims to establish an 'open' category at its competitions for swimmers whose gender identities differ from their birth sex.
The new policy will require that transgender competitors must have completed their transition by the time they are 12 years old to take part in women's competitions.
Before casting their votes, Fina members heard a report from a transgender task force containing leading figures in the worlds of sport, medicine, and law.
Speaking after news of the vote broke, Fina's executive director Brent Nowicki said that the governing body had "emphasized competitive fairness" in its approach to drafting the policy, which was comprehensive, science-based and inclusive.
Elsewhere, Fina president Husain Al-Musallam claimed that the global authority was trying to "protect the rights of our athletes to compete" in addition to "protecting competitive fairness".
"Fina will always welcome every athlete,"Al-Musallam insisted. "The creation of an open category will mean that everybody has the opportunity to compete at an elite level."
"This has not been done before, so Fina will need to lead the way. I want all athletes to feel included in being able to develop ideas during this process," he added.
Sharron Davies, an ex-Great Britain swimmer who has continually argued against transgender participation in women's swimming, tweeted that she was "proud" of Fina and her sport for "doing the science, asking the athletes/coaches and standing up for fair sport for females".
"Swimming will always welcome everyone no matter how you identify but fairness is the cornerstone of sport," she stressed.
But LGBT advocacy group 'Athlete Ally' branded the new policy"discriminatory, harmful, unscientific and not in line with the 2021 IOC principles".
"If we truly want to protect women's sports, we must include all women," said a tweet from the group, which has backed former UPenn college swimmer Lia Thomas in the past.
Fina's new policy comes at a time when transgender participation in women's competitions is one of the most debated topics in sport and has only intensified with Thomas' success.
In March, Thomas, who swam on the UPenn men's team before undergoing hormone replacement treatment in 2019, won the highest national college title in the US when taking part in the women's 500-yard freestyle, and she also broke several records at her former Ivy League college.
In cycling, there has also been a furore over whether British cyclist Emily Bridges is allowed to take part in elite women's events or not.
Moves from Fina's counterpart in the sport the UCI this week mean that she will have to wait until 2023 for this given that the body has doubled the period before a rider who has transitioned from male to female can take part in women's events to two years.
Do you see what they're doing with their propaganda?
They want you dependent on their toxic food system. Period.
6 million chickens were culled in the U.S. And 97 food processing plants have were destroyed, hundreds of thousands of tonnes of fertilizer were destroyed in TWO separate trains that both left the tracks. One in Canada and the United States.
DO YOU SEE WHAT THEY ARE DOING?
Australia has an apparent Swine Flu and is culling pigs. America also has a foot and mouth problem and is killing cows and deer.
The UK has had a few food processing plants catch fire too. Just happened to be CHICKEN plants..
So why? Well, I've mentioned this before. The UN has a protein alternative set up. And yes it's true. You can find it on the UN website.
In case of an emergency of hunger or famine, the UN has a stockpile of protein alternatives. These include crushed-up insects like grasshoppers, mealworms and cockroaches.
Less hard work and cost. No real farming, Someone in the WEF has most definitely started up this supply chain waiting to go.
Deutsche Bank now expects 'an earlier and somewhat more severe recession'
The first economist on Wall Street to predict a U.S. recession in 2023 is moving up his timeline for an economic contraction.
"More than two months ago we forecasted that the U.S. economy would tip into a recession by end-2023," Deutsche Bank Chief U.S. economist Matt Luzzetti wrote in a note to clients on Friday. "Since that time, the Fed has undertaken a more aggressive hiking path, financial conditions have tightened sharply and economic data are beginning to show clear signs of slowing. In response to these developments, we now expect an earlier and somewhat more severe recession."
Luzzetti now sees U.S. gross domestic product (GDP) growth coming in at "sub-1%" in the first half of 2023, followed by a -3.1% contraction in the third quarter of 2023 — one quarter earlier than Luzzetti previously estimated. In the fourth quarter of 2023, Luzzetti expects growth to contract by another -0.4%.
"The upshot is that the economy is likely to contract next year by about 0.5%," the note stated. "A more severe downturn leads to a higher unemployment rate, which peaks near 5.5%. The weaker labour market helps to guide inflation closer to target by 2024, though we still anticipate a nearly half per cent overshoot at that point."
Luzzetti and team also see the Consumer Price Index (CPI) peaking at 9% in the third quarter of 2022. CPI, a closely watched measure of what Americans pay for goods and services, was up 8.6% year-over-year as of May — the most since 1981.
Recession fears are picking up across Wall Street and the C-Suite as the Federal Reserve embarks on an aggressive pace of rate hiking. On Wednesday, the Fed lifted rates by 75 basis points as the central bank took a harder tone on stomping out inflation.
On Friday, the Fed reiterated his hawkish stance on policy by noting in a report to Congress that the monetary body is "acutely" focused on bringing down inflation. The commentary weighed on stocks yet again despite the S&P 500 and Nasdaq Composite already being in a bear market.
"A more severe tightening of financial conditions could easily pull forward recession risks to around the turn of the year, which could short-circuit the Fed's tightening cycle," added Luzzetti. "That said, higher inflation during that period would likely constrain the Fed's ability to cut rates to counteract the downturn. On the other side, a more resilient economy in the near-term with more persistent inflation pressures would spell upside risk to our Fed view."
NEW – Powell: "Rapid changes are taking place in the global monetary system
A US central bank digital currency is being examined to "help the US dollar's international standing."
"Due to de-dollarization, we will now need a digital dollar Central Bank Digital Currency"
— what an amazing statement! 3 years ago when all this was being said by myself and others, people wanted us to die of covid.
Marching towards starvation': UN warns of hell on earth if Ukraine war goes on
This is a joke. Russia is being blamed for everything. All because he would not go ahead with Dr Evils' ( Klaus Schwab ) plan and started exposing the WEFs whole agenda.
But they censored Russia and started blaming him for everything. Even meddling with the U.S elections. 🙈
This war will carry on for another year. If you read my blogs you will know this.
So Putin must be responsible for the 97 food plants that were destroyed? Because if anything is going to cause a food shortage, I think that may be it.
Dozens of countries risk protests, riots and political violence this year as food prices surge around the world, the head of the food-aid branch of the United Nations has warned.
Speaking in Ethiopia's capital, Addis Ababa, on Thursday, David Beasley, director of the UN World Food Programme (WFP), said the world faced "frightening" shortages that could destabilise countries that depend on wheat exports from Ukraine and Russia.ÿ
"Even before the Ukraine crisis, we were facing an unprecedented global food crisis because of Covid and fuel price increases," said Beasley. "Then, we thought it couldn't get any worse, but this war has been devastating."
Ukraine grows enough food every year to feed 400 million people. It produces 42% of the world's sunflower oil, 16% of its maize and 9% of its wheat. Somalia relies on Ukraine and Russia for all of its wheat imports, while Egypt gets 80% of its grain from the two countries.
The WFP sources 40% of the wheat for its emergency food-relief programmes from Ukraine and, after its operating costs rose by $70m (£58m) a month, it has been forced to halve rations in several countries.
Citing increases in the price of shipping, fertiliser and fuel as key factors – due to Covid-19, the climate crisis and the Ukraine war – Beasley said the number of people suffering from "chronic hunger" had risen from 650 million to 810 million in the past five years.
Beasley added that the number of people experiencing "shock hunger" had increased from 80 million to 325 million over the same period. They are classified as living in crisis levels of food insecurity, a term he described as "marching towards starvation and you don't know where your next meal is coming from".
Beasley said that after the economic crash of 2007-09, riots and other unrest erupted in 48 countries around the world as commodity prices and inflation rose.
SO, if you have been listening, or if you do not believe what I say? Then this is why I kept the best story last.
World's Largest Cricket protein 'factory' completed in Ontario — "you really will eat ze bugs":
Aspire's the new plant will reportedly produce 9000 metric tons of crickets every year for human and pet consumption. — about two billion insects are distributed annually across Canada and throughout the United States.
Aspire also reports that it already has orders for the next two years.
Crickets are currently being explored as a protein-rich superfood. They contain fibre and are already found in grocery stores and restaurants, and have a smaller environmental footprint than traditional protein sources.
On May 26th, Aspire Food Groupannounced that it has completed construction of its alternative protein manufacturing facility. London, Ontario is now home to the world's largest cricket production facility.
Aspire's the new plant will reportedly produce 9000 metric tons of crickets every year for human and pet consumption. That's about two billion insects to be distributed annually across Canada and throughout the United States.
Aspire also reports that it already has orders for the next two years.
Crickets are currently being explored as a protein-rich superfood. They contain fibre and are already found in grocery stores and restaurants, and have a smaller environmental footprint than traditional protein sources.
The construction was led by EllisDon, and the new London facility, which will be fully operational in the fall, reportedly showcases four first-of-a-kind newly developed technologies; an automated storage retrieval system (ASRS), a new type of HVAC system, a 5G IoT network and an AI solution that's been recognized by UNESCO.
AUS: Fruit and vegetable costs to skyrocket in coming weeks
Aussies are being warned the price of all fruit and vegetables will spike in the coming weeks as farmers face labour shortages and growing production costs.
Tyson Cattle, from the national industry representative AusVeg, told Today the issues were critical and "impacting grower confidence to plant more crops".
"They're unable to access the pickers and packers needed to get crops off the ground and onto supermarket shelves," Tyson told Today.
The plan for creating a food shortage is set at high speed. I have told people to prep but they don't listen. So please stock now before it's too late for you to find food.
Dave Begley